M a r k e t N e w s
South Africa enters solar power world top 10
Posted on : Tuesday, 29th July 2014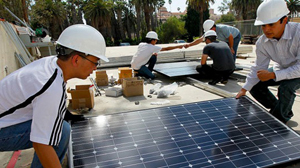 South Africa has now connected more than half a gigawatt of utility-scale solar power, moving into the world top 10 of countries harnessing renewable energy from the sun, according to figures released last month by Wiki-Solar.org.

Wiki-Solar is a leading authority on the deployment of utility-scale solar power - photovoltaic (PV) power stations of 5 to 10 megawatts (MW) and above.

The United States tops Wiki-Solar's list of the top 10 markets for utility-scale solar power, with 349 solar plants together generating 6 498 MW, followed by China (4 607 MW,) Germany (3 428 MW,) India (1 897 MW,) Spain (1 680 MW,) the UK (1 523 MW,) Italy (875 MW,) Canada (714 MW,) and France (677 MW.)

South Africa is in 10th spot, with 15 solar plants now contributing 503 MW to the country's electricity grid.

Most of these plant were built under the first round of the government's renewable energy programme for private producers - and with several solar projects still under construction, and contracts for further projects having been signed, South Africa is likely to climb still further up Wiki-Solar's rankings.

In November, the Department of Energy signed agreements with 17 new preferred bidders in the third round of the programme, following the signing off of 47 projects in the first and second rounds, bringing to 64 the total number of renewable energy projects approved by the government since December 2011.

Once they are all operational, the 64 projects - representing foreign and domestic investment of over R100-billion - will add around 3 900 megawatts of wind, solar photovoltaic and concentrating solar power to South Africa's energy mix.

And in his State of the Nation address last month, President Jacob Zuma said the government would push ahead with the fourth round of the programme so as to take advantage of wind, solar, biomass and other technologies that increased opportunities for rural development in the country.

First-round solar projects that are delivering power to South Africa's national grid include:

The 75 MW Lesedi and 75 MW Letsatsi plants situated in the Northern Cape and Free State provinces respectively, built by a consortium lead by US company SolarReserve.
The 75 MW Kalkbult solar plant near Petrusville in the Northern Cape, built by Norwegian-based company Scatec Solar with local partners.
The 50 MW De Aar and 50 MW Droogfontein solar plants near De Aar and Kimberley in the Northern Cape, built and operated by a consortium led by British company Globeleq.
The 22 MW Herbert and 11 MW Greefspan solar plants in the Northern Cape, built by US firm SunPower and owned by a joint venture between Spain's AMDA energy and South Africa's Alt-E Technologies.
Source : cbn.co.za