M a r k e t N e w s
British Companies Explore More Kenya Oil
Posted on : Thursday, 4th September 2014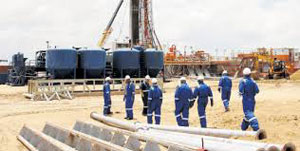 Nairobi — TOWER Resources, the British oil and gas exploration firm, expressed encouragement at progress made in its operation in Kenya.
The company is involved in a couple of wells in the East African country.
"(Tower is in) preparation for the drilling of the potentially play-opening Badada-1 well, Block 2B, Kenya, including the ordering of long-lead items.
"Encouraging result from Sala-1 well in the same basin, which encouragingly found hydrocarbons," Tower Resources stated in an operation update on Wednesday.
Graeme Thomson, Chief Executive Officer, said the year had been "extremely busy for the company, including the farm-in to Block 2B in Kenya.
"Our near term drilling in Kenya is evidence of the prudent early steps which were taken to turn Tower into a pan-African explorer with a broadening portfolio of high-impact exploration opportunities," he said.
Apart from Kenya, Tower Resources has projects in Cameroon, Madagascar, Namibia, Saharawi Republic and South Africa among other African countries.
Source : www.allafrica.com