M a r k e t N e w s
Kenya Told to Promote Use of Fuel-Saving Cars
Posted on : Thursday, 4th September 2014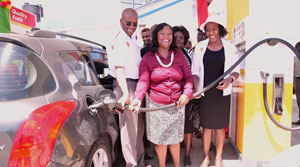 THE government has been urged to adopt policies that encourage purchase and use of fuel efficient vehicles to reduce the country's carbon footprint.
According to Jane Wanjiru Akumu, the duty paid for new vehicles is higher compared to that charged when importing a used vehicle while it should be the other way round.
"We are working with the Energy Regulation Commission to come up with policies that can encourage vehicle buyers to import newer, more fuel efficient cars, by paying less duty," said Jane Wanjiru Akumu, the program officer in the energy branch of UNEP.
She added that ERC and UNEP are also working on a labelling system which will require that all vehicles being imported into Kenya clearly indicate the engine capacity and fuel efficiency, to reduce the entry of cars that contribute to a higher carbon footprint
This, Akumu said, would also enable the implementation of a program that compensates those who own fuel efficient vehicles.
"We are working on a fee - bate system that will involve giving refunds for those using fuel efficient vehicles, while imposing higher taxes on the inefficient ones," said Akumu. The policy proposal is expected to be presented to law makers early next year, she added.
The industry players are bench marking their ideas on the Mauritius model which has been running on an incentive system.
Mauritius imposes several taxes on vehicle ownership, all related to engine size, as measured by cylinder capacity in cubic centimetres (cc).
They have also put in place a carbon dioxide tax on motor cars or for the granting of a rebate, and annual road tax.
She was speaking on the sidelines of East African Community fuel standards stakeholders workshop held on Friday in Nairobi.
EA countries plan to adopt cleaner fuel standards in 2015, which will likely help absorb excess low-sulphur oil products coming out of Middle East and Indian refineries, where new capacity is being added.
Kenya, Tanzania, Uganda, Burundi and Rwanda are due to switch to the cleaner fuels from January 2015, according to documents posted on the websites of the EAC secretariat and UNEP.
The fuel switch would come just as refiners in OPEC countries and India install secondary units and new oil plants to produce ultra-low sulphur fuels that meet tighter European environmental standards, worsening a supply glut of the higher grades of transport and industrial fuels.
Source : www.allafrica.com