M a r k e t N e w s
PTA approves US$138m grant for Infrastructure and other projects in Tanzania
Posted on : Wednesday, 3rd September 2014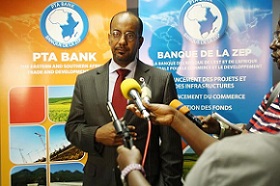 The government of Tanzania has received a US$138m grant from the Eastern and Southern African Trade and Development Bank (PTA).
The funds will be used in three infrastructural projects and three syndicated loans. Kilwa Energy will receive US$50m, while 21st Century which is a food and packaging firm will get US$20m and Sea rock getting US$3m of the funds set aside for infrastructure.
Tanzania Electric Supply Company (TANESCO) received US$20m of the syndicated loan; the government got US$25m while the Tanzania Ports Authority received US$20m. The bank is looking to syndication as a way of leveraging the institution to facilitate more capital flow into the bank's projects.
The Chief Executive Officer for PTA, Admassu Tadesse indicated that the bank is dedicated to promoting both private sector and government development through trade, project and infrastructure financing. The bank has, in the last 30 years, financed trade and socio-economic investments in the region worth US$10bn.
The PTA Bank provides Project & Infrastructure Finance and Trade Finance as its core products and services. These facilities are available to businesses and enterprises incorporated and doing business in the PTA Bank member states.
PTA Bank) is a treaty-based regional institution, whose membership is open to member states. Although the Bank is a COMESA institution, its membership is open to Non-COMESA States, as well as institutional shareholders.
Source : www.constructionreviewonline.com