M a r k e t N e w s
Oil explorer Afren seeks clearance ahead of Wajir drilling
Posted on : Monday, 1st September 2014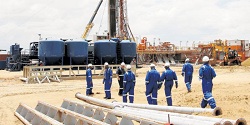 London Stock Exchange-listed oil explorer Afren Plc has filed environmental disclosures ahead of drilling exploratory wells in Mandera and Wajir in the coming months. Afren's drilling will be in Bur Wein area in El Wak, Mandera County and at Konton in Wajir County, both falling in Block-1 of the Mandera Basin.The company whose top officials were last week suspended over making illegal payments is looking to drill in the area at a time of heightened security concerns over inter-clan fighting in Mandera and instability in neighbouring Somalia.
"Block-1 has some positive hydrocarbon history…an oil seep and tar staining was observed in a water well and in an adjacent 52-metre borehole cored by Total at Tarbaj in the south of the block which demonstrates that oil has been generated at some point in the basin's history," says a National Environment Management Authority (Nema) filing.
Nema has called on the public to submit views on the projects with a deadline of the end of September. According to the disclosures in the Nema reports, the drilling of Afren's wells is expected to take five months.
Afren has been in the news for the wrong reasons in the past week following the suspension of top management and it is not clear if this will affect its Kenyan plans.
Simba Energy, a Canadian company that holds 100 per cent rights in the adjacent Block 2A to the south, has begun looking for partners to carry out comprehensive work on its block and plans to sell off a 40 per cent stake in the block within the Mandera basin. The firm said it recently concluded a survey paving the way for deeper seismic surveys.
READ: Simba Energy seeks partners for Mandera block
Oil exploration in Kenya has gathered pace with the discovery of reserves in Turkana by British prospector Tullow, which is also drilling additional wells in the Kerio basin (Epir-1) and Northern Turkana (Engomo-1).
Australian oil firm Pancontinental announced in June that it had discovered traces of oil and gas after drilling the Sunbird-1 well in Block L10A, situated off the coast of Mombasa. The proximity of the Wajir drilling site to the Somalia border, which lies just 10 kilometres away, could pose a security worry.
Meanwhile, there is an ongoing dispute between Kenya and Somalia over the maritime border of the two countries which lies in an area with potential oil reserves in the Lamu basin.
Somalia on Friday moved to a UN court seeking determination of the maritime boundary, even as Kenya moves to licence more exploration blocks in the disputed area. Somalia, which claimed diplomatic efforts had failed to solve the row, asked the court to help.
Source : Business Daily