M a r k e t N e w s
Tanzania: WB Grant Pushes to Boost Agriculture
Posted on : Friday, 29th August 2014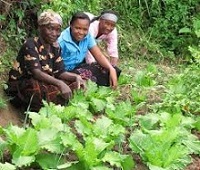 THE country's agriculture sector will get 60 million US dollars (about 100bn/-) in investment guarantees from World Bank's Multilateral Investment Guarantee Agency (MIGA) to boost growth and tame poverty.
MIGA Vice-President and Chief Operating Officer, Michel Wormser said in Dar es Salaam on Thursday that the agency will partner with the United States government agency, Overseas Private Investment Corp to boost foreign direct investment into the sector.
"In our talks with government officials since arrival, there is an urge to improve agriculture which will have a big impact to the economy," said Mr Wormser, who was in the country for two days.
He said that although the country's economy has been steadily growing at an average of 7 per cent per annum in the past three to five years, the majority of the people are yet to feel the impact of such a development due to slow growth in agriculture.
"What MIGA can do in this case is help the government by bringing foreign investment and create jobs in the agriculture sector which touches on many people's lives in this country," said Wormser.
He revealed that Tanzania is one of the 13 Sub Sahara African countries which will benefit from a close to 400 million US dollar funding set up by OPIC and backed up by MIGA.
"What Tanzania needs now is acceleration of growth and also diversification," the MIGA chief noted saying rapid growth of agriculture will likely have an economic impact on the majority poor who live in rural areas where farming is a main occupation.
Wormser pointed out that MIGA which has backed a few investments worth 185 million US dollars has been underutilized in the country, but expressed hope that there is growing interest from both the public and private sectors. "Now there is more interest coming especially in infrastructure development, energy and transport," he noted.
MIGA was created in 1988 to promote developmentally beneficial foreign direct investment into emerging economies by insuring investments against political risks such as expropriation, breach of contract, war and civil disturbance.
OPIC and MIGA announced last June that they would create a 350 million US dollar political risk facility to support agribusiness investments in sub-Saharan Africa.
OPIC will provide the political risk coverage and MIGA will take on 60 per cent of the risk of each investment made by the Silverlands Fund, a private equity fund that focuses on agribusiness in several sub-Saharan African countries, their joint statement said.
The statement further noted that Silverlands Fund plans to reach 500,000 farmers in the next 10 years by investing in agribusinesses that work in parts of the fruit, grains, soya, sugar, poultry and livestock value chains.
Source : www.allafrica.com