M a r k e t N e w s
AFRICA COULD LEAD ENERGY STORAGE REVOLUTION
Posted on : Thursday, 28th August 2014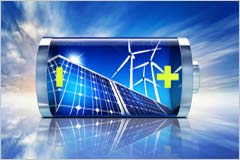 Africa has the potential to be a leader in the energy storage space, says Basil Read Energy director, Ian Curry.
"We have to go for this distributed power generation solution, [while] accommodating storage. Storage is a technology and an industry that is coming into maturity and Africa has the opportunity to lead in that space because we're starting from a relatively blank page."
There are many different views on the energy deficit on the continent and Curry echoed this by declaring that the issue is fundamentally multifaceted.
He also stated that a distributed power generation solution would be best in tackling the energy shortfall in Africa.
"What Africa needs to be focusing on is identifying local resources that are available on a small distributive basis and deploying distributed power generation systems," Curry explained.
"Complying with a common infrastructure code [would] allow those distributed systems to be connected to the continental transmission network. That way, we are not denying the people of Africa what should be a fundamental human right – access to electrical power."
Curry emphasised the need to utilise resources that are readily available on the continent and encouraged the use of as many different sources of energy generation as possible.
"We should use local, primary energy resources that are available – that may be biomass, coal, gas, the sun, wind, hydro, tidal wave power – and not be fixated on allocating certain capacities to certain technology types," he said.
"The challenge that we face is that many African nations have a national utility company. One wonders whether there's a sense of fear in releasing control to Independent Power Producers (IPPs) and allowing IPPs to start delivering this essential service to the people of Africa."
Source : www.cnbcafrica.com