M a r k e t N e w s
Kenya: One Million Kenyans to Be Connected to Power This Year
Posted on : Monday, 25th August 2014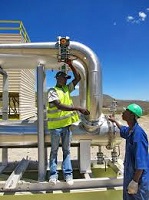 Nairobi — The Government has said that one million people will be connected to the national power grid by the end of this financial year in its plan to connect over 70 percent of the population by 2017.
In the last financial year, over 400,000 customers were connected to the power line. The initiative will be implemented under a programme dubbed 'The last mile'.
Principal Secretary in the Ministry for Energy and Petroleum Joseph Njoroge said the process of expanding the network is already underway noting the required infrastructure was being put in place.
Njoroge however says connection rates still remain at Sh35,000 for new customers but notes that the power cost is expected to be reviewed by the end of this month.
"The ministry of energy is involved in ensuring that the infrastructure - transmission system - is put in time for these 5,000 megawatts," he stated.
"The programme has already started to give tangible benefits... We did not have enough rains this year; the long rains were much lower than the average rain we received, however there was no power rationing this year."
He was speaking in Athi River where he witnessed a Sh159 million power upgrade project aimed at stabilising supply to customers within Nairobi and its surroundings.
The project is meant to maintain and also upgrade the distribution network.
"This together with growth in commercial and domestic customer numbers has necessitated the upgrade of this network as it is already strained," he pointed out.
The area has five cement factories which consume a lot of power. The company will work on 145km of lines constituting 66kv, 33kv and 11kv lines.
Kenya Power Managing Director Ben Chumo on his part said the network will be expanded even more in a bid to accommodate the anticipated 5,000 Megawatts by 2017.
He noted that this will greatly reduce power interruptions to the customers as well as the cost.
On the connection cost, Chumo however said Kenya Power has signed various agreements with financial institutions to develop appropriate loan facilities to assist potential customers pay for the new connection.
Chumo said 16,000 public schools were already connected to the national grid while 6,000 schools were remaining.
"We shall also connect those customers neighboring those schools," he said.
Source : www.allafrica.com