M a r k e t N e w s
Huron Valley Ambulance donates medical supplies for use in Africa
Posted on : Saturday, 23rd August 2014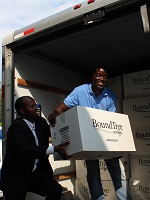 WASHTENAW COUNTY - Huron Valley Ambulance has donated more than 100 cases of medical supplies to aid some vulnerable African communities through the Ann Arbor-based non-profit Relief for Africa.
Intravenous (IV) kits and surplus medical supplies were presented Aug. 19 by HVA to Relief for Africa representatives.

Rama Kannenje, president of Relief for Africa, said he really appreciates the opportunity to distribute these supplies, to help prevent the spread of disease and improve people's health.

"I couldn't imagine doing anything better," he said.
Kannenje said Relief for Africa recently toured the two hospitals in Kenya, where the supplies are being sent, to learn what the needs there are. Mostly they just need basic supplies, he said, simple things like gloves and needles.

"All these supplies really are life changing to a lot of people back in Africa," he said.

Just having new IV supplies is very important, he said, instead of having the same supplies needing to be reused over and over - which can often be the case and is a factor in the spread of disease.

Roger Simpson, Huron Valley Ambulance vice president for central operations, said these supplies will do a lot of good.

"They'll get a lot of use out of it; help a lot of people," he said.
IV catheters, the needle used to start an IV, were the main type of item being donated, Simpson said, with up to 3,000 of them per box. He said the total amount would last almost any hospital for a while.

Other donated items include syringes and other IV supplies like IV tubing, he said.

HVA's donated supplies are still sealed and have never been used, but can no longer be used in the U.S. due to their expiration dates.

These supplies are still sterile, but due to government regulations they can no longer be used here.

"In areas with few health care supplies, let alone sterile supplies, these items will go far in helping people receive lifesaving treatment," according to HVA.

Even though these supplies are considered expired, Kannenje said they can still be useful.

There's no reason for HVA not to donate surplus supplies that would otherwise be scrapped or disposed of, Simpson said.

This is the first time HVA has interacted with Relief for Africa, but he said HVA has a history of donating to similar organizations in the past - such as a donation of several ambulances a few years ago to an organization called Health Help Project based in Miami, Fla.

Simpson once spent some time in Nigeria and he said the comparison of what is available in the U.S. versus in Nigeria was just unbelievable.

Kannenje said Relief for Africa has been shipping supplies over to Africa for several years now and is always looking for partners.
He is glad Relief for Africa is forming this new partnership with HVA, which he said will hopefully continue.

The University of Michigan Health System is another local partner, Kannenje said.

Relief for Africa accepts donations of medical equipment like wheelchairs and hospital beds too. Residents who want to donate something can call Relief for Africa at 734-975-7200 for a donation pickup. Medications are not accepted though due to regulations.

"The people back there, they need everything," Kannenje said.

Relief for Africa is a non-profit organization dedicated to improving access to healthcare and education through recovery and redistribution of used or surplus medical supplies, equipment, books, and training of healthcare personnel for underserved and vulnerable communities in Africa. In addition to its Ann Arbor office, it has a regional presence in Nairobi, Kenya.

Founded in 2009, Relief for Africa focuses on aid to the Horn of Africa, including countries such as Eritrea, Ethiopia, Somalia, and Djibouti. For more information, visit reliefforafrica.org.

HVA is a nationally accredited, nonprofit community ambulance service covering Washtenaw County in addition to and western Wayne and southwest Oakland counties. HVA is a member of Emergent Health Partners.
Source : www.heritage.com