M a r k e t N e w s
Kenya: Forget greenhouses, Agronet technology is the in-thing
Posted on : Friday, 22nd August 2014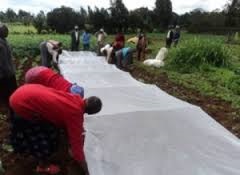 You have heard of cases where mosquito nets have been used for other purposes, such as fishing or protecting vegetable gardens. Well, the idea around agronets is not too far from what farmers and fishermen do with mosquito nets, only these nets are made specifically for farmers.

Agronet technology involves the use of agricultural synthetic nets that have been tested and can be used in managing key pests in horticultural crops.

Pests account for up to 30 per cent of harvestable yield losses, according to Kenya Agricultural Research Institute. The nets, also known as Eco-Friendly Nets (EFN), can reduce up to 90 per cent of pesticide use on crops.

As the push towards organic farming gains more interest among local small-scale farmers, the use of nets in the farm to protect crops from pests is an idea that farmers are warming up to.

One such farmer is 39-year-old Wandeto Benedetto from Mathira, Nyeri County, whose journey with agronets came just by chance.

Wandeto grows tomatoes, cabbages, kales, cauliflowers, brinjals, spinach and capsicum using a green house facility on his two and half-acre piece of land.

"I first heard about the nets from my sister, who asked me to give them a try instead of buying another greenhouse. I needed to see what these nets do so I travelled from my farm in Nanyuki to Nyahururu, two hours away to see for myself," he remembers.

At the Nyahururu demonstration farm, he saw how a farmer was using nets to cover tomatoes and cabbages on his farm. The nets, he thought, looked pretty much like mosquito nets although they were specially designed for a farm and the tomatoes looked healthier than those in his greenhouse.

"That's when I decided to take the risk and get some nets. I dug into my pockets and bought two kinds of nets, one that is specially made for tomato farming, and the other for horticultural crops. I then pitched them on a whole acre of land," he said.

He invested Sh8,500 for the multipurpose nets and a further Sh12,000 for nets specially made to grow tomatoes.

The output from the tomato production increased from five crates to 12, while the period of maturity was halved from four to less than three months.

He says that due to the heat that nets provide for the crops, it has reduced the period of maturity, especially for his second farm in Karatina. The nets have also reduced attacks from pests, since many insects are not able to successfully penetrate inside and attack the crop.

"Since the crop is under cover, a lot of insects such as the white fly and other pests do not get to the plants, therefore I do not use as much pesticides as before," says Wandeto.

He notes that the nets are three times cheaper to put up and maintain compared to greenhouses, thus suitable and affordable to many small-scale farmers. His sales of tomatoes has increased from Sh15,000 to about Sh50,000.

"The physical barrier that is the net is made of specific mesh size and held up in a way that prevents entry, and development of the pest on the crop. The net is also made with technology that creates micro-climate conditions to favour the crop, thus increasing its performance," says Lusike Wasilwa, assistant director of Horticulture and industrial crops at Kari.

The agronet, first tested in Kenya and Benin, has shown impressive results in guarding crops against attacks from pests and a number of diseases. The cabbage and tomato nets act as physical barriers that deny pests such as Lepidoptera and leaf miners from accessing the crop, thus delaying other pest infestation and offering protection against cold, wind, hailstones and heavy rains.
Source : www.freshplaza.com