M a r k e t N e w s
Tanzanian vegetable growers use netting technology to control pests
Posted on : Friday, 22nd August 2014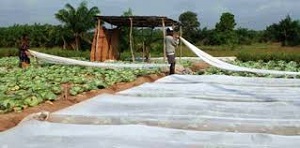 Northern Tanzania's vegetable growers have started embracing AgroNet technology, which encourages the use of netting in horticulture to control crop pests.

Florence Nkini is one of small-scale vegetable growers on the slopes of the Africa's highest peak Mount Kilimanjaro, who have started benefiting from the new technology.

Like other farmers in Koboko village of Siha district, Kilimanjaro region, Florence grows different types of vegetables such as tomatoes, cabbages and onions.

She says that the technology is changing farmers' lives in the area as it has reduced cost of production by 90 percent.

The technology is one of the most efficient methods of preventing malaria in tropical countries like Tanzania, as one is to sleep under a bed net to avoid mosquito bites.

AgroNet is a family of clear netting products developed by A to Z Textile Mills based in Arusha for use in horticulture—vegetables, fruit and ornamentals.

The technology was developed to control pests with the aim to significantly reduce quantities of pesticides—up to 90 percent in the case of cabbage net.

It protects crops from caterpillars and leaf miners in particular as well as birds and heavy rains.

"I am thankful to have discovered AgroNet technology in farming, " says Florence.

According to the mother of four, the technology is applied in nurseries and fields, whereby there is no use of chemicals in controlling pests in the vegetables, hence reduces cost of crop production.

Eunice Mosha, another vegetable grower in the area, hails Farm Concern International (FCI), a market development agency, developing marketing models and strategic alliances to enhance economic growth among poor communities in Sub- Saharan Africa.

FCI links smallholder farmers with new farming techniques, agro- dealers and traders to boost livelihoods of rural communities.

"In a piece of land, a small-scale farmer like me can reap enough cash from vegetable farming," Mosha says.

She says through the use of AgroNet, vegetable farming is like "Green Gold" to small-scale farmers in the area, as tomatoes grown under the technology looked healthier than those growing in an open air.

Ananiel Nkya of Arumeru district in Arusha region also thumbs up for the technology, saying it makes farming cheap as it reduces application of pesticides.

"As smallholder farmer, you don't need to buy pesticides and it speeds up germination process of plants in the field," she says.

Neema Lema of Hai district in Kilimanjaro views the technology as a tool towards addressing poverty in the country.

"This is an alternative to green house technology. And it is an ideal to smallholder farmers who cannot afford to embark into Green House Technology," she says, commending researchers for coming up with such technology.

Elia Machange, an Agricultural and Livestock Development officer in the district, also says the technology provide an opportunity for vegetable growers to sell their produces abroad as no chemicals applied.

"One of the notable benefits about these nets is that they are three times cheaper to put up and maintain as compared to the greenhouses in the market, making them suitable and affordable by most of the small-scale farmers," says Michael Kinjanjui, a researcher-cum-agronomist at A to Z Textile Mills.

Kinyanjui says AgroNet products provide farmers with affordable alternatives to generally expensive conventional protected cultivation in greenhouses or tunnels.

Adoption of AgroNet technology, he says, brings change to the farming system so as to guarantee massive yield increase, quality produce, investment security and a prolonged farming season.

"The technology was hatched by A to Z in an effort to promote the use of AgroNet on cabbage, resulting in less pesticides and better income for farmers," he says, adding that the new farming technique is friendly to the environment and gives opportunity for farmers to sell their products abroad.

He discloses that nearly 500 smallholder farmers in northern Tanzania have started applying the technology.
Source : www.freshplaza.com