M a r k e t N e w s
Recent discoveries in Kenya highlight oil and gas potential
Posted on : Monday, 28th July 2014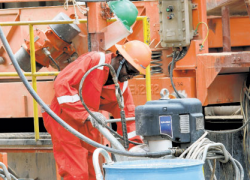 Kenya's run of geologic luck continues, following the announcement of the country's fourth consecutive discovery of oil by the UK's Tullow Oil and Canada's Africa Oil. Similarly, while activity in the natural gas sector is proceeding at a slower pace, following the recent departure of one explorer, the outlook for new finds is promising.

New wells

Tullow and Africa Oil, which are joint partners in the exploration of the East Africa Rift Basin, announced in late September that drilling revealed oil in the Auwerwer and Upper Lokone sandstone reservoirs, bringing their total discoveries in Kenya to an estimated 300m barrels. The companies had previously announced a major discovery in Turkana after beginning exploration in late 2012.

Tullow and Africa Oil have exploration licences for 12 blocks and have identified 10 additional leads and prospects. They plan to drill 12 wells over the next year.

The Turkana discovery has led to major international interest in Kenya's remaining oil exploration licences, including from France's Total, China National Offshore Oil Corporation, ExxonMobil and Chevron, though no other companies have yet announced commercially viable discoveries. Kenya has 46 blocks, of which 44 are licensed to 23 exploration companies. The government plans to create and offer seven new blocks in the near future.

Meanwhile, there is continued activity around the existing licences. The UK's Premier Oil recently bought into an exploration project through a deal with Taipan Resources for Block 2B, which contains the Pearl prospect, with its potential for 100m barrels. Upstream investment in oil production, already at $1bn a year excluding exploration, is expected to grow 60% per year through 2018.

The sudden surge in interest has led Kenya to reconsider its regulatory regime for the award of licences. In July the government announced that it would adopt open tendering to replace the "first-come, first-served" process in place. Following the Turkana discovery, the government also switched to a production sharing contract (PSC) model for oil discoveries to replace its prior practice of collecting 3% royalties on natural resources. Oil production will also be subject to a 42% corporate tax on net profits in addition to the PSC arrangement.

Commercial production still a few years away

Despite the significant discoveries, major production is still some distance away. The IMF forecasts that Kenya will begin producing oil in six to seven years; Tullow is more optimistic, predicting that Kenya could start exporting oil by 2016.

In the meantime, the government is pressing ahead with plans to construct a 32-berth port in Lamu connected to a new pipeline, which it hopes will be the major transport point for East African oil. The $25.5bn Lamu Port-South Sudan-Ethiopia Transport project (LAPSSET) recently received a major boost with Uganda's announcement of support. Though South Sudan and Ethiopia have not signed on, partnership with Uganda alone may be enough to make the project feasible.

Execution of the project may prove complicated. Unlike the major port being constructed at Bagamoyo in Tanzania with Chinese backing, there are as yet no major international financial backers for LAPSSET, although a number of South African banks have expressed interest and Kenya was able to allocate $48m from its budget this year for the project for preliminary studies. In addition, there are security concerns along the proposed pipeline route near the Ugandan border, where clashes between rival nomadic tribes killed at least a dozen people in mid-October.

Natural gas mostly unexplored

While most of the international focus has been on oil exploration, Kenya has enormous potential in natural gas as well. Exploration has lagged, however, in part because the government's exploration licences did not clearly address gas rights. The Ministry of Energy and Petroleum has said that it is drawing up new terms for gas explorers, which should help boost interest.

Meanwhile, the US's Apache, the first company to find offshore natural gas in Kenya, has announced that is exiting the country to focus on other projects. The company, partnered with Tullow and Australia's Pancontinental, failed to find commercial volumes of gas at its Mbawa-1 well. However, Kenya's exploration blocks around Lamu are an extension of the Tanzanian and Mozambican geological belts where commercially viable deposits have been found. To date, drilling in Tanzania and Mozambique has shown reserves of more than 4trn cu metres. It seems likely, therefore, that exploration activities in Kenya will continue to expand, especially once regulatory changes clarify the terms of gas exploration rights.
Source : oilinkenya.co.ke