M a r k e t N e w s
African Web platform aims to close funding gap for energy projects
Posted on : Thursday, 21st August 2014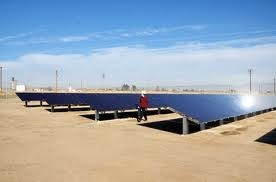 A new online platform is being launched in a bid to link developers of small-scale African energy projects directly with investors and technical advisers with the aim of accelerating the deployment of such projectsacross the continent.
Known as GENHUB-Africa, the initiative has received the backing of the New Partnership for Africa's Development (Nepad) Planning and Coordinating Agency and is due to be formally launched by the end of August.
The objective of the hub is to provide early-stage seed funding to 'incubate and activate' solar, wind, biomass, biogas, hydro and geothermal projects of below 5 MW, as well as to support possible biofuels projects.
Coolfin Partnership's Gavin Maxwell, who is a key driver of the platform, tells Engineering News Online that GENHUB-Africa has been designed to close the current "investment gap" for such projects by offering expert technical and business advice, as well as tailored financial resources to project developers.
Besides funding, the platform will include an online project-submission facility, whereby developers are able to present their projects for a rapid feasibility review by technical and financial specialists associated with the hub.
The funding component, meanwhile, is being structured to overcome the current constraints to raising risk or seed funding for distributed energy projects.
The idea is to overcome the bottleneck of intermediaries, such as development financiers and nongovernmental organisations, and place seed capital and expansion capital more directly into the hands of energy developers and in forms that are commensurate with asset and operational investment need.
"Donor, aid and grant channels are often slow to react to developer needs and have become expensive to operate in emerging economies," Maxwell explains.
GENHUB-Africa will seek to tap not only traditional public and private investment sources, but also the philanthropic community, corporate social responsibility budgets and emerging impact funds.
In late October, the leading 20 supporters of the initiative will participate in a roundtable in London, supported by the Nepad Planning and Coordinating Agency and the European Union, to unpack the kinds of innovative funding instruments to be made available.
From that gathering the intention is to firm up $300-million to support the GENHUB-Africa instruments, as well as to assemble a governance board and appoint a fund manager.
"The key issue is to move away from a broad fund to having specific cash instruments that are relevant to the small-scale energy sector," Maxwell explains. These could be divided into capital-, operating- or service-cost instruments supported by bonds, loans or grants.
"In other words, the developer can identify the instrument needed to support the project."
The platform is open for project and investor registrations from late August, but 15 projects have already been assembled, eight of which will be presented to investors immediately.
The projects, which are in countries such as Kenya, Tanzania,Uganda, Zambia and Ivory Coast, comprise biomass, biogas, biofuel, wind, solar and geo-thermal technologies representing investment opportunities from $400 000 to $12-million dollars.
"Some simply require capital asset finance, some require exploration funding but all have been mentored to upscale their standards of business structure," Maxwell reports, adding that he sees potential for 100 such projects within the first year of GENHUB-Arica's operations.
Source : www.engineeringnews.co.za