M a r k e t N e w s
Africa : High Potential Market For Solar & Other Alternative Energy Projects
Posted on : Monday, 28th July 2014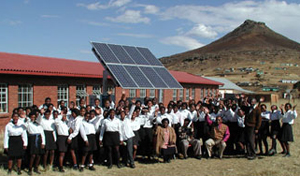 Africa has a huge untapped potential for generating clean energy, including enough hydroelectric power from its seven major river systems to serve the entire continent's needs, as well as enormous potential for other energy sources such as solar, wind and geothermal.

Africa is ideal for alternative energy projects, as many of the countries receive 325 days of sunlight on average. This makes solar power a high potential for alternative energy without high cost power grids.
Wind and wave power are also viable ways to come by alternative energy, as Africa's long coastline on the east coast has plentiful wind and wave power if properly utilized. Wind is not as uniformly distributed as solar and is restricted to coastal locations, and mountain ranges. The wind on the western coast is substantial, but limited in central Africa.

The Board of Directors of the African Development Bank approved $150 million for a wind power project in Kenya's Lake Turkana region. Kenya's power generation capacity will grow 300 MW and will benefit Kenya by providing clean and affordable energy. This project will allow the Great Rift Valley region to be connected to the rest of the country with a road, fiber-optic cable and electrification.

Europe could source 60% of its power needs by 2030 by tapping into the vast renewable energy potential of the desert regions of North Africa partially by installing 100 GW of solar power plants throughout Northern Africa.
Using just 0.3% of the Saharan Desert, the world's largest concentrating solar power plant (CSP) would produce enough power to give Europe all of the clean renewable energy that it needs. The Desertec Foundation, consisting of scientists, business and government executives, has had a falling out with the industrial consortium, Dii, the people, who are supposed to execute the plan. The future of the project is now up in the air.

Tunisia, with France as a partner, is planning to add two new nuclear power facilities by 2019 to produce an additional 900 - 1000 MW of power for the country. Tunisia was to be a part of the Desertec project, but until the problems are worked out, this is on hold.

Morocco has launched one of the world's largest and most ambitious solar energy projects. Called the Moroccan Solar Plan, it is regarded as a high point on the country's path towards a secure and sustainable energy supply. Morocco, being the largest energy importer in North Africa, is making concerted efforts to reduce its reliance on imported fossil fuels.

The aim of the plan is to generate 2 GW of solar power by the year 2020 by building five large solar power projects with modern solar thermal, photovoltaic and concentrated solar power mechanisms.
Located near Tangiers, Morocco has built Africa's largest wind farm, which has the capacity to provide enough energy to save 126,000 metric tons of oil per year.

Morocco hopes to become a noteworthy renewable energy producer, projecting to export to European countries with two cables already laid between Morocco and Europe along the Strait of Gibraltar.

A British company, Blue Energy, is planning to build a 155 MW solar project in western Ghana. Blocks of solar panels will be built in phases, allowing the first generation to begin in early 2014, with the plant due to reach full capacity by late 2015.

The Ghanaian government plans to double the capacity from 2,800 MW to 5,600 MW in 2017, and provide electricity to more than 100,000 homes. Mere Power Nzema Ltd. will build the plant, using photovoltaic (PV) technology to convert sunlight directly into electricity, as the characteristics of the sunlight in Ghana favor PV. Installation of more than 630,000 solar PV modules will begin by the end of this year with electricity being generated in early 2014, with full capacity reached by the end of 2015.
The Water Bore Hole Project will provide clean, fresh drinking water and significantly improve living standards. Presently, women in Adaklu Wumenu, Ghana travel five hours to collect water from the nearest source, a stream. Many young women are unable to attend school because of the time spent transporting water. In addition, pathogens in the stream water can cause river blindness.

Nigeria is the seventh most populous country in the world and has extensive oil deposits that produce a gross domestic product of over $2 Billion, and by the end of 2013 its population will hit 170 million, yet sixty percent of Nigeria's population has no access to electricity. Siemens has built three gas-turbine power plants. These will go a long way toward reaching Nigeria's goal to increase the country's generation capacity by five to eightfold from its current level of approximately 5 GW by 2020.
The 10 MW Katsina Wind Farm Project is owned by the Nigerian Federal Ministry of Power, which desires to boost electricity generation and have constant power supply.

The wind farm consists of 37 wind turbines with a rated power of 275 KW each, which will go a long way in realizing the government's target. The project was awarded to the French company, Vergnet S.A as the EPC contractor.

The government of the Democrat Republic of Congo (DRC) is attempting to harness the potential of the Congo River by building the world's largest hydroelectric project, named Grand Inga.
Its 40 GW output would move Africa into a new world of industrialization, potentially lighting up the continent from Cape Town in South Africa to Cairo in Egypt. If the Grand Inga Hydropower Project is built, it would dwarf China's Three Gorges Dam, which is currently the world's largest energy generating project, with almost double its capacity. Despite years of discussion and planning, there have been no firm financial commitments.

Soitec (Euronext) has installed a concentrator photovoltaic (CPV) demonstration plant in the isolated rural village of Usib near Rehoboth in central Namibia. The new 25 KW installation has been connected to the grid of the national power utility, NamPower, and provides electricity for users, including a rural school. Soitec and NamPower have entered into a cooperative agreement in which Soitec has constructed and operates the CPV plant and will transfer the knowledge gained as well as operations and maintenance duties to NamPower.
Eskom is developing a Concentrating Solar Power (CSP) plant near Upington, Africa. Eskom generates approximately 95% of the electricity used in South Africa and approximately 45% of the electricity used in Africa. Eskom is concentrating on using the "Central Receiver" or "Power Tower" type technology as opposed to the Parabolic Trough, Linear Fresnel, or Parabolic dish technologies because of higher efficiencies, lower energy cost and capital cost reduction in future plants due to economies of scale.

CSP directs the sun's energy through large mirrors that concentrate thermal energy to produce steam to drive a conventional steam turbine for electricity generation. This is analogous to conventional power plants that use steam to power a turbine and generator, except that fossil fuel combustion is replaced with free, non-polluting solar energy.

Ethiopia plans to achieve middle-income status by 2025 while developing a green economy. The country's most promising renewable energy sources, including wind power, solar energy, biomass, biofuel, geothermal and hydropower are envisaged in the country's Green Development Strategy. Ethiopia is one of the largest countries in Africa but it is also one of the driest, which makes most of its land unsuitable for agricultural production, causing the government to shift its focus to biodiesel crops that flourish under the harsh climatic conditions of Ethiopia.

Companies from India, Europe, Israel and the United States have formed joint partnerships with local companies to help grow castor bean plants and jatropha curcas, popular biodiesel plants.

There are more than 62 million acres of land available in Ethiopia suitable for biodiesel crop farming, which if fully developed, would make Ethiopia the largest biodiesel producer in the world.

Africa has a huge untapped potential for generating clean energy, including enough hydroelectric power from its seven major river systems to serve the entire continent's needs, as well as enormous potential for other energy sources such as solar, wind and geothermal. In recent years, we have seen efforts to increase clean energy output, with the North African nations leading in solar and wind categories, Kenya in geothermal, and Ethiopia in bio-crops. Once developed, the alternative energy output from Africa could supply all of Europe and the African continent with clean inexpensive energy.
Source : altenergymag.com