M a r k e t N e w s
Syngenta establishes Africa s first seed care facility
Posted on : Wednesday, 20th August 2014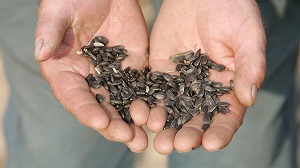 South Africa has become home to Africa's first Seed Care Institute as agribusiness Syngenta on Tuesday opened its eleventh research and development (R&D) facility
The Africa Middle East (AME) Seed Care Institute, established at the company's formulation, fill and packing plant, in the North West, aimed to stimulate the developing and testing of seed treatment and protection technologies to address the challenges of developing the continent's complex and diverse agro ecosystems, crop preferences and farming systems, while enhancing productivity in a "more efficient and environment-friendly" manner.
"Faced with high input costs, a grower needs access to innovations in seed protection to safeguard the investments and increase crop production," Syngenta South Africa MDAntonie Delport said, adding that the direct treatment of the seed would enable seed companies and growers to improve plant growth, prevent damages from pathogens and pests and achieve higher yields.
Seed treatment, which sees crop protection ingredients applied directly onto the seeds prior to sowing, was said to be an efficient, economical and the least environmentally intrusive measure in protecting crops from pests.
"Our seed specialists will work with smallholder and large commercial farmers, and seed companies to develop bespoke applications and treatments to control damaging and invasive plant pests and diseases," Delport said, pointing out that seeds were the foundation of the world's food supply.
The facility would be responsible for seed safety testing, seed preparations for trials, the analysis of treated seeds, recipe development and application and plantability testing, as well as "Take Care" training, which imparted safety information, and a stewardship programme, which would cover the A to Z of safety.
The AME facility, which would significantly expand Syngenta's capabilities to serve its customers, which included seed companies, seed treaters and seed growers, would strengthen research efforts and create global synergies in a sector challenged by climate change, the loss of arable land and a lack of water.
"It [seed treatment] is a rapidly evolving science where R&D is key to maintaining competitiveness in the global seed marketplace," Delport noted.
The global seed treatment market, currently valued at about $2.5-billion, was expected to grow to $4.5-billion by 2018.
'The Good Growth Plan', which would see the agribusiness deliver the required knowledge, tools, technology and services to over five-million growers and enable gains of 50% in other parts of East Africa aswel, like Kenya, Tanzania, Uganda and Ghana.
The Good Growth Plan was based on six elements, including making crops more efficient and increasing the average productivity of the world's major crops by 20% without using more land, water or inputs.
Syngenta planned to "rescue" more farmland by improving the fertility of ten-million hectares of farmland on the brink of degradation, while enhancing biodiversity on five-million hectares of farmland.
Lastly, the plan aimed to empower 20-million smallholders and boost their productivity by 50%, train 20-million farmworkers on laboursafety, particularly in developing countries, and strive to achieve fair labour conditions across the entire supply chain network worldwide.
The company, which invested over $1.4-billion into R&D globally in 2013, had earmarked investments of over $500-million to grow its portfolio and contribute to the transformation of agriculture on the continent.
Syngenta currently had over 27 000 employees – 5 000 of which were dedicated to R&D – in 90 countries.
Source : www.engineeringnews.co.za