M a r k e t N e w s
Solar power rule heats up market for equipment vendors
Posted on : Monday, 28th July 2014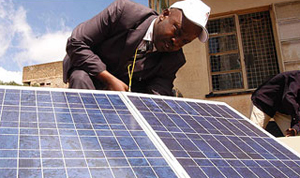 Solar equipment vendors have seen an upturn in business as property developers move to comply with a new law meant to cut electricity costs. The Energy (Solar Water Heating) Regulations 2012 require builders of residential and commercial houses to include solar water heating systems in their designs. The regulations affect units whose hot water needs exceed 100 litres per day and also require existing premises with no solar heaters to have them retrofitted by 2017.

"Our sales have been good in recent days. Developers are now more interested in solar water heaters which are replacing instant hot shower heads," Powerpoint EA Ltd product line manager Eric Muturi said. Although solar water heaters can help households save up to 20 per cent on energy used per day, the upfront costs of installation slows down the uptake. (READ: Developers put on notice as solar power rules take effect) The cost of a complete solar water heater system for domestic use could be between Sh125, 000 and Sh150, 000 while that for commercial buildings between Sh600, 000 and Sh2 million depending on the water handling capacity.

"Investors are turning to green energy such as the sun because it is reliable, safer and cheaper in the long run," Chloride Exide Kisumu regional manager Eshmael Indeche said. Developers especially of gated communities see the solar heaters as a solution to reducing the service charge which is slapped on residents. "We are saving Sh30, 000 per month on power bills since converting from instant hot showers to solar water heaters," Groovehut Apartments manager Samuel Opiyo said. The estate installed solar water heaters with a capacity of 1, 800 litres.

Erratic supply and rising costs of electricity is pushing real estate players to adopt green energy, a trend likely to gather pace with the increase in VAT on electricity from 12 per cent to 16 per cent. The shift has hurt the business of firms which supply instant hot shower heads with some of them contemplating to start stocking solar water heaters. The energy law makes it an offence for developers to fail to incorporate energy saving technology in buildings. Kenya Power has also been directed not to connect power to new buildings that lack solar water heating systems. But the power firm said it was still having discussions before it could start implementing the directive.

"We are still discussing at policy level," Kenya Power communications officer Kevin Sang said. HABITAT, the UN human settlement agency, is advocating for eco-friendly building practices in Kenya, Uganda, Tanzania and Rwanda.

Buildings account for 40 per cent of global energy consumption in cooling, lighting and heating according to the UN which is calling on counties to only award permits to property developers with eco-friendly architecture plans.
Source : altenergymag.com