M a r k e t N e w s
Over 400,000 linked to power grid
Posted on : Wednesday, 20th August 2014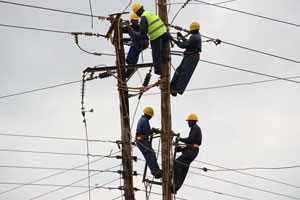 A total of 443,254 new customers were connected to the national electricity grid in the 2013/2014 financial year, the Energy ministry has told a parliamentary committee.
At the same time, the Rural Electrification Authority plans to have 6,065 primary schools supplied with electricity by the end of this financial year.
REA acting managing director Ng'ang'a Munyu told the committee that the plan was to have 5,000 primary schools connected to the power grid by the end of the last financial year.
Primary schools became the focus of REA after the Jubilee Coalition took power, with a pledge to have all Standard One pupils given laptop computers.
PUBLIC FACILITIES
Mr Munyu said they had initially planned to connect three main public facilities — trading centres, secondary schools and health centres — which formed a total 25,873. Of these, 22,962 had been connected by June 30, 2013, leaving 2,911.
The ministry told the Energy, Information and Communication Committee that the additional connections during the last financial year brought the total number of customers connected to 2,757,983.
This, the team led by Energy Cabinet Secretary Davis Chirchir said, brings the current connectivity level to 37 per cent of the country.
Mr Chirchir was accompanied by Principal Secretary Joseph Njoroge, Mr Munyu and Kenya Power managing director Ben Chumo.
Mr Chirchir said the ministry is seeking funds to extend the grid to Wajir and Mandera counties, as well as other parts of northern Kenya.
He said a 10-year power generation and transmission expansion plan covering 2014 to 2024 was recently prepared based on an assumed target of universal electricity access by 2020.
Source : www.nation.co.ke