M a r k e t N e w s
JKT shows vegetable preservation system
Posted on : Friday, 15th August 2014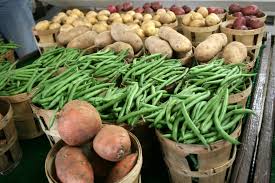 Vegetable farmers in the rural areas have a reason to smile, thanks to a new traditional cooling technology that has been introduced by the Tanzania National Service (JKT).
A Warrant Officer 2, who is also in charge of JKT pavilions at Nzuguni grounds, Simon Uggi, told the 'Daily News' in an exclusive interview at Nzuguni grounds, where Nane Nane exhibitions are underway, that the tradition cooling system can preserve vegetables for seven days.
The 'Daily News' witnessed the technology which is made up of a small hut with thatched roofing with its walls made up of two wires that in the middle are filled with charcoal.
Mr Uggi noted that the charcoal that makes the wall of the hut has carbon dioxide and there are pipes of water that are put in the wall that drip with water on the charcoal removing the carbon dioxide, replacing it with oxygen.
He noted further that the oxygen thus makes the hut to be cool inside and thus acting as a fridge or cooling system that can preserve vegetables for up to seven days.
According to him, in remote areas where there is no tap water, farmers can just pour water on the wall of the hut to make it wet to allow the oxygen to replace carbon dioxide.
"Currently we are just showing our visitor the technology and allow them to enter inside to see the coldness but we plan to come with two thermometers next year, we will insert one outside and another one inside for people to be able to see the difference," he said.
He welcomes interested farmers to visit and see the technology for themselves, adding that JKT was willing to help farmers get their own such cooling systems in their farms.
Source : in2eastafrica.net