M a r k e t N e w s
US$ 285m limestone mining plant to be set up in Kenya
Posted on : Friday, 15th August 2014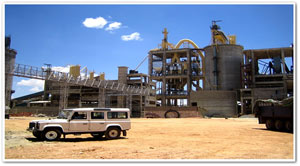 Kenya's Athi River Mining Company (ARM) has been given the go-ahead to set up a US$ 285m limestone mining plant in Ngaie, Kyuso district.
Minerals executive George Mulatya was pleased when confirming the reports and he said the cement firm is expected to set up a clinker and cement manufacturing plant which will in return create 7,000 jobs and give the Government US$ 3m in annual revenue.
Mr. Mulatya pointed out that although 2,000 residents will be displaced due the massive project, the county government will safeguard the rights of the residents, especially on land matters and compensation.
ARM Cement is one of the largest cement manufactures in Kenya. It is also a leading manufacturer of sodium silicate, lime, industrial minerals, formulated fertilizers and special building products in East and Southern Africa.
Source : www.constructionreviewonline.com