M a r k e t N e w s
Kenya: M-Kopa Solar Wins Sh133 Million Future Energy Prize
Posted on : Wednesday, 21st January 2015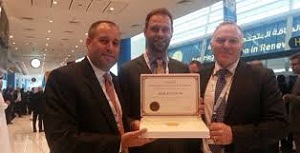 A Kenyan green-energy company has become the first firm in Sub-Saharan to win the Zayed Future Energy prize in the enterprise and SME category.
M-KOPA Solar was announced the winner at the opening ceremony of the annual Abu Dhabi Sustainability Week. The Zayed Future Energy Prize brings with it a US$1.5 million (Ksh133 million) prize. M-KOPA Solar will use these funds to launch a training and development program called M-KOPA University, which will provide world class technical and business skills development to employees, sales agents and partners.
M-KOPA Solar prvides 'pay-as-you-go' energy services for off-grid customers - combining mobile payments with GSM technology to enable the leasing of solar power systems.
Jesse Moore, Managing Director and Co-Founder of M-KOPA Solar, said the prize will bring global attention to M-KOPA's business model and objective.
"We have brought clean, affordable solar power to 150,000 homes in East Africa in less than three years. We believe that the 'wireless energy' revolution is just beginning and that M-KOPA Solar will soon power millions living off the grid," says Moore.
M-KOPA University will be hosted in the company's Nairobi headquarters to provide an onsite and remote curriculum. By 2018, M-KOPA University will provide training to over 1,000 staff and 3,000 sales agents across East Africa, as well as to M-KOPA's licensing and distribution partners in other parts of Africa and Asia.
"We've proven that our technology can scale and - thanks to great work by our team - we've already reached a pace of 500 plus sales per day in East Africa. And yet there is demand for our solution in tens of millions of homes. With the recognition and backing of the Zayed Future Energy Prize, we will continue to develop our exceptional team in order to reach millions of customers as soon as we can."
M-KOPA Solar customers buy a solar home system with an initial deposit of $35 (Sh3150), followed by 365 daily payments of Sh40 - which is cheaper than their daily spend on kerosene. After completing the payment package, customers own the system outright.
The US$4 million Zayed Future Energy Prize, established by the United Arab Emirates government in 2008, recognizes organizations, schools and individuals across the world that have made significant contributions to the future of renewable energy and sustainability.
In seven years, the Zayed Future Energy Prize winners and finalists have positively impacted the lives of more than 150 million people around the world - delivering access to clean energy and water, championing the deployment of renewable energy and creating hundreds of jobs
Source : www.allafrica.com