M a r k e t N e w s
Kenya plans to sell a 51 percent stake in five sugar millers
Posted on : Wednesday, 13th August 2014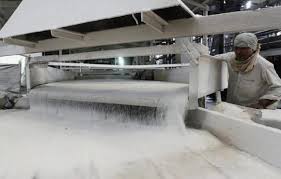 Kenya plans to sell a 51 percent stake in five sugar millers to strategic investors starting this month as it looks to complete reforms aimed at making its sugar industry competitive, a top official said on Friday.
East Africa's largest economy is expected to fully open up its market to imports from the regional Common Market for Eastern and Southern Africa (COMESA) states after more than a decade of an arrangement that allowed it to charge high tariffs to protect its sugar farmers.
"In the best-case scenario we want to begin the sale process of the five sugar firms by end of this month because time is not on our side. We have to move with speed and finish the work," Sicily Kariuki, principal secretary in the Agriculture Ministry told Reuters.
The east African nation in February was granted a one-year extension of safeguards that limit sugar imports from COMESA to allow the country improve the competitiveness of its sugar industry.
The tariffs were scheduled to fall to zero in March, but Kenya sought an extension until 2015 to conclude reforms in its sugar industry.
"From the deadline of the extension of the COMESA import safeguards we realise we have no option but to move fast because we have a lot to do," Kariuki said.
The government will sell a 51 percent stake in the five sugar companies to strategic investors and reserve another 30 percent for farmers, she said.
The government will then sell a remaining 19 percent stake in the Sony, Chemelil, Nzoia, Muhoroni and Miwani milling companies in an initial public offering once the factories are profitable.
Critics have blamed a high cost of production for the woes facing Kenya's sugar industry. Poorly funded government factories have aging machinery that is prone to break down. The roads in most sugar growing areas are also in poor shape.
The industry regulator, Kenya Sugar Board (KSB) estimates the cost of producing a tonne of sugar at about $570 in western Kenya compared with $240-$290 in rival producers such as Egypt.
"We will pursue a wide range of reforms because competitiveness is not just about the sale of the factories but ensuring all parts of the system are working efficiently and harmoniously," Kariuki said.
East Africa's biggest economy has an annual sugar deficit of around 200,000 tonnes, which is usually filled by imports from producers in the region.
Kenya has an installed factory crushing capacity of 30,109 tonnes of cane per day and expects an additional 3,000 tonnes to be added when a factory being constructed near the port city of Mombasa starts operations.
The factory - Kwale International Sugar Company - is 25 percent owned by Mauritius' Omnicane.
Kenya's raw sugar production is expected to climb by 17 percent to 700,000 tonnes in 2014, buoyed by improved supply of cane and higher factory capacity, according to regulator Kenya Sugar Board. (Editing by George Obulutsa and Jason Neely)
Source : www.reuters.com