M a r k e t N e w s
The German Auto Industry Doubles Down On Africa
Posted on : Monday, 8th February 2021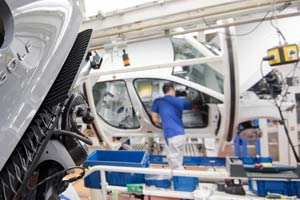 In August last year, just as the global auto industry began to spot green recovery after the worst coronavirus carnage, German carmaker Volkswagen unveiled its first vehicle assembled in Ghana, the Tiguan SUV, in the existence of Ghanaian President Nana Addo Dankwa Akufo-Addo.

The event marked the official opening of the VW's first vehicle assembly plant in the West African country and the fifth in sub-Saharan Africa; the other locations are in South Africa, Kenya, Nigeria and Rwanda.

"Although the African automotive market is comparatively small today, the sub-Saharan region has the potential to become an automotive growth market of the future," Volkswagen said in a statement.

Africa has been proclaimed the final frontier for the global auto industry, eager to get the fast-growing middle class of the continent to buy its vehicles in the midst of rapid urbanisation, as demand falters in traditional European and US markets.

There are currently 45 vehicles per thousand inhabitants in Africa compared to the global average of 203, with more than a billion people on the continent, or 17 per cent of the world's population, accounting for just over 1 per cent of cars sold worldwide.
Source : www.innzaf.com