M a r k e t N e w s
Uganda and Rwanda lead East Africa in switch to electric cars
Posted on : Monday , 2nd December 2019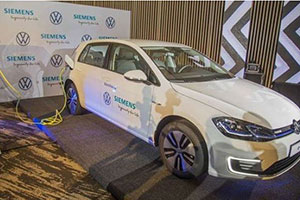 Uganda and Rwanda are running ahead of their East African neighbours in the global switch to electric motoring, whilst infrastructure inadequacies limit investments in the emerging sector. Both Kigali and Kampala have revealed electric vehicle assembly plants in the past two months, blazing the regional trail with Kenya and Tanzania only taking baby steps in the direction of embracing the new technology.
Kiira Motors, Uganda's state-owned Corporation has so far shown the largest ambition in the region by constructing a solar electric bus and two battery-powered cars. Last year Uganda dedicated almost Ush24 billion ($6.4 million) to set the first fully home-made car on the road.
Kayoola the electric bus has been assembled using Kiira Motors home-grown green mobility technologies, while associating with Chinese Equipment Manufacturer, Motor Co. Ltd.
In Rwanda, German automaker Volkswagen began assembling electric vehicles in Kigali in the month of October this year. With the German power equipment firm Siemens, preparing to set up to 15 charging stations in the Rwandan capital. This emanates after Ampersand one of Rwandan local firms, started selling electric bikes powered by batteries that can last for about 75km of riding.
"We must address the issues of infrastructure and energy since these vehicles require energy and space for charging. The government should also contemplate and consider tax incentives to invite investors and even buyers of electric vehicles," said the Group chief executive of Nairobi-based motor dealer Simba Colt, Dinesh Kotecha, in an interview.
Finnish firm EkoRent presented a fully electric taxi dubbed Nopia Ride last year in Kenya and now the firm has installed 5 charging stations in three locations, including the Hub Karen, Two Rivers Mall and Thika Road Mall.
Last year the government of Tanzanian permitted an initial roll-out of electric Safari vehicle at its flagship national park of Serengeti in an effort to cut down gas emissions. The Mount Kilimanjaro Safari Club turned out to be the first tour company in Tanzania to discharge a 100 per cent electric Safari cars in the region. Tanzania is apparently in quest to power its electric cell driven vehicles through bulk production of graphite minerals, with plans to build 4 of such factories in the country.
Source : www.hfhp.com