M a r k e t N e w s
USD 265 million bridge to be constructed over Lake Victoria by Tanzania
Posted on : Wednesday , 14th August 2019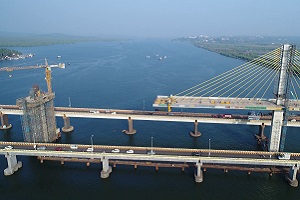 A contract worth USD 265 million for the construction of 3.2 km long bridge over the lake Victoria has signed by the Government of Tanzania. Two Chinese companies have been awarded this contract with the aim of increasing trade connectivity among the East African countries.
The two companies namely the China Railway 15th Bureau and China Civil Engineering Construction Company (CCECC) will reportedly build a link over the Gulf of Mwanza, which is a 30 km long inlet in the southern part of Lake Victoria.
The bridge will link Busisi and Kigongo in the Mwanza area which will replace the Mwanza ferry and connect Tanzania to Democratic Republic of Congo, Rwanda and Burundi via road. The goal behind the construction of this bridge is to improve the communication and trade relations among the Mwanza region of Northern Tanzania, Uganda, Rwanda and Burundi.
Patrick Mfugale, Chief Executive of the Tanzania Roads agency told that the bridge will subsequently reduce the transport time, hence improve the connectivity among countries. Currently, it requires 3 hours to cross to the other side of the lake via ferry, once completed it'll reduce to much lower.
Source : Bizmart