M a r k e t N e w s
UNICEF Pledges 150 Mn to Boost Kenya's Heathcare Programme
Posted on : Monday , 6th August 2018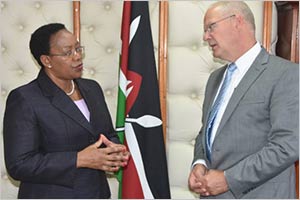 Supporting the Universal Healthcare programme in Kenya, the United Nations Children's Fund has pledged $150 million towards the nutrition and immunization programs planned by the country for the next four years.
The meeting held between the Health Cabinet Secretary Sicily Kariuki and UNICEF Country Representative Werner Shultink on Wednesday focused on the improvement of the health and medical facilities in the country, which resulted in the said pledge. This decision will boost the health sector, a part of the Big Four Plan announced by the President Mr Uhuru Kenyatta.
CS Kariuki announced that a pilot for 100 per cent access to universal health care will take place in four counties, kick starting the health programme in the country. The pilot project will work to assess the capacity of NHIP and improve the infrastructure before spreading out to other counties. This is all in line with the government's agenda to provide quality health services to all its citizens by the year 2022, by having everyone under health cover.
A health insurance plan for three million secondary students is also underway as directed by President Kenyatta last year.
Earlier this year, the World health Organisation committed to make the Universal Health Care coverage a reality in Kenya. WHO's Director-General Tedros Adhanom pledged to provide both technical and financial support towards the design of Kenya's UHC benefit package and in the implementation of an effective community health strategy.
Apart from this Thailand has also offered its support and willingness to assist Kenya with their training and technical expertise to achieve UHC. Thailand has already achieved success in the programme and has extended it support towards the African country during CS Kariuki's visit this May.
Universal Health Care has been allocated Sh44.6 billion for the financial year 2018/2019.
Following its project for quality healthcare, the Kenyan government has hired 100 Cuban doctors, who have since been fanned out to different counties.
Source : CapitalFM.co.ke