M a r k e t N e w s
UAE's Rotana Group Expanding into Tanzania
Posted on : Wednesday , 18th April 2018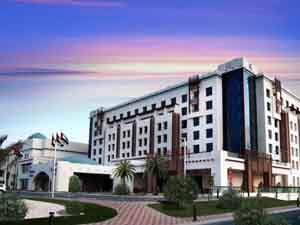 Renowned UAE based hotel group, Rotana Hotel Management Corporation is preparing to venture into the hospitality markets in Tanzania with a brand new hotel located in Dar-es-Salaam. This project is highly anticipated; it is expected to be a 30 floor construction and will be located in the commercial hub of Tanzania, Dar-es-Salaam.
Rotana is a market leader in the Middle East and is now turning its attention to expansion projects outside UAE with projects in East Africa taking first priority.
The 254-key property in Dar-es-Salaam will feature 191 luxury hotel rooms and suites alongside 63 serviced apartments across 24 floors. The property stretches 65,000 square meters and will be a landmark development in the city. The property will also have a Five Star Hotel, Class "A" Offices, Retail and Parking Facilities.
In Tanzania, the Rotana brand is currently looking for its business name of the newly built hotel to be published later. The Rotana management is working with a goal of establishing 100 hotels by 2020. The group's branch in Tanzania will be worth a whopping $32 million and will be equipped with shopping malls and business offices. The property is owned by the locally-based Mwalimu Nyerere Foundation and the CRJE Estate Ltd, which is a subsidiary of the China Railway Jianchang Engineering Company. Prof. Jumanne Maghembe, the Minister for Natural Resources and Tourism has rendered his support to projects such as this citing a new influx of tourists in the nation and the need for hotels to meet the added demand.
Source : bizmap.com