M a r k e t N e w s
Kenya- Drilling On Longonot Geothermal Project to Start June 2018
Posted on : Thursday , 1st February 2018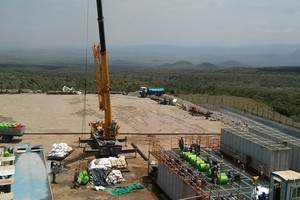 African Geothermal International Limited (AGIL) is said to be planning to start drilling for its Longonot geothermal project this June.
The company is linked to the Chairman of Kenya's National Bank, Mohamed Hassan, who is the co-director of AGIL.
This announcement comes after a delay of about 5 years. Drilling for one well is said to cost around $5 million at a depth of around 3,500m, with a target of up to 40 wells at a planned combined geothermal power output of 140 MW.
The company initially announced the start of drilling in 2013 and quoted an overall investment cost of up to $600 million.
Back then the company announced it had already secured $10 million (Sh1 billion) in equity to start the exploration and another $8.4 million (Sh865 million) was to be signed with the African Union Commission.
AGIL is said to be preparing necessary groundwork to be able to start drilling June 2018.
The firm said it has the option of hiring out drilling rigs from either Geothermal Development Company (GDC) or KenGen, both state-owned agencies.
In 2009, Agil got the license for drilling, the same year it was incorporated. It was given an area of 132 square kilometres around Mt Longonot for exploration and production for 30 years.
Source : izmap