M a r k e t N e w s
President Kagame Sees Scope For Growth In Rwanda
Posted on : Thursday , 9th November 2017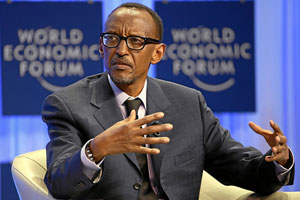 The Rwandan economy could expand to 6 percent in 2017 and a further 7 percent in the following year, according to President Paul Kagame.
This growth could be credited to domestic demand and better commodity pricing.
The economic index of Rwanda is projected to experience a rapid rise this year and the year after that follows as industries such as tourism, mining and financial services grow.
The rate of expansion is set to rise from the current 6 percent and rise to 7 percent, said President Kagame in an interview in Dubai. Output too has increased in the second and third quarters after a slow spell in the last year.
President Kagame expressed his optimism for the future by saying that "The driving sectors are services, financial services, tourism, they are all combined to make this high growth. We are seeing mining activity growing very fast. We are seeing agriculture making a very good contribution, construction has picked up again."
The Rwandan economy too has made steady progress at a rate of 7 percent annually, since Kagame took charge in 2000.
Kagame's term was extended to a third term after a successful referendum to amend the constitution to remove the limitation of two-terms to a sitting president. Kagame has also gained plaudits for turning Rwanda into one of the best performing nations on the African continent.
Estimates from the International Monetary Fund also revealed that Rwanda are in line to hit a 7.5 percent growth rate by 2022.
A stronger interest in domestic demand and improved pricing of metals including tantalum, tin, tungsten and gold have facilitated growth in the nation.
According to sources, Rwanda has no plans at the moment to capture the international markets. Rwanda last raised $400 million in a Eurobond offering back in 2013. A five-year Treasury bond for 10 billion francs ($11.7 million) on its local market was more than two times oversubscribed in August and had a 12.2 percent yield. The next issue will be a seven-year bond on Nov. 22.
Rwanda is also rated at a B2 level by Moody's Investors Services, which is five stages below the investment grade. Economic growth in Rwanda is also being supported by infrastructure projects like the new construction of a $700 million million Bugesera international airport located in southern Rwanda.
Source : bizmap