M a r k e t N e w s
After 2 Years, Chinese Medical Team Departs from Tanzania
Posted on : Wednesday , 18th April 2018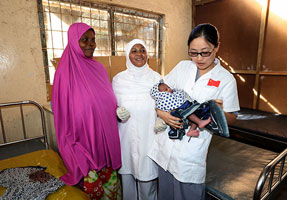 After two years of their mission to serve rural and urban Tanzanians, the visiting 24th China Medical Team was bid a heartfelt adieu on Friday in Dar es Salaam. The team achieved serving over 20,000 Tanzanians while also donating medicines and equipment worth 125 million.
Ummy Mwalimu, the Tanzanian Health, Community Development, Gender, Children and Elderly Minister spoke on behalf of the government during the farewell party at the Chinese Embassy. She lauded the team's efforts and commitment towards saving citizens' lives. She conveyed their sincere appreciation and gratitude to China for its aid, which she believes has facilitated the improvement of Tanzania's health solutions.
The sentimental minister was quoted saying, "We know you left your families and homes to come and help your brothers and sisters. Thank you very much". Tanzania has maintained an extraordinary relationship with the People's Republic of China in the health sector since 1968 as the latter started sending doctors over.
According to Mwalimu, this relationship has concentrated on experts and infrastructure provision. The Chinese government helped Tanzania to construct the ultra-modern Jakaya Kikwete Cardiac Institute (JKCI). She added that this association aided the Tanzanian government from sending patients outside the nation. "I would like to express my sincere gratitude for the commendable services these doctors have been providing to the citizens who received their services," she said.
Ms Wang Ke, the newly appointed Ambassador of China to Tanzania said the two nations have enjoyed this friendship for a long time. She remarked that since the first batch of doctors was sent to Tanzania in the 1960s, over 15 million Tanzanians obtained treatment from 1080 Chinese doctors. Sustaining the global humanitarian spirit, for almost half a century the Chinese government has allocated medical teams to Tanzania.
She added, "The visit has played a significant role in sharing advanced medical experiences, providing medical equipment and medicine, improving the country's health care capacity as well as consolidating friendship between the two countries".
Consisting of 25 doctors, the 24th China medical team arrived in Tanzania on August 2015 and worked in urban and rural areas. The team during their stay voluntarily donated blood to Tanzania's National Blood Bank and was quick to reach the region of Kagera after it suffered an earthquake, so as to save victims' lives irrespective of the aftermath's dangers.
Dr. Sun Long, a cardiac surgeon was quoted saying, "The voluntary blood donation is good evidence of the deep friendship between the people of China and Tanzania". He said he wished their stay in Tanzania could be longer and was unable to hide his love for the nation. He talked about how during their two-year tenure, they learnt invaluable things, and exchanged beneficial experiences with local doctors, and praised the government's endeavors in developing and upgrading health services.
Source : bizmap.com