M a r k e t N e w s
Aspirant holds free medical camp for 1,500 residents
Posted on : Friday , 11th August 2017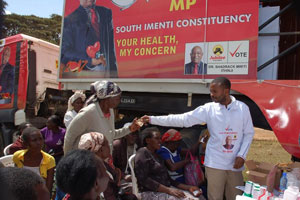 Jubilee MP aspirant for South Imenti constituency Shadrack Mwiti has sponsored a five-day free medical camp for residents.
About 1,500 people were examined on the first day of the medical camp.
Doctor Mwihurih Githinji said gastritis, hypertension andurinary tract infections were common ailments.
He said they refererred four patients with high blood pressure to Meru Level Five Hospital and detected 11 cases of cancer.
"We have also booked one patient for surgery after we discovered he had prostate cancer. We have also started a deworming campaign for children," Githinji said.
The aspirant promised that residents found with acute illnesses would be referred to Meru Level Five Hospital.
"If they will not get adequate medical care, they will be taken to Kenyatta National Hospital. The patients with cancer can be flown to India," Mwiti said.
Mwiti said if elected MP he will prioritise free monthly medical camps.
"Although health is a devolved function I will follow up to ensure hospitals and health centres have enough drugs," Mwiti said.
Source : http://www.the-star.co.ke